I tried to start doing the compact challenge when the quarter first started but that didn't last anymore than like a day or two. Sadly I failed from the start and why? Well I blame Gottchalks this is because they decided to have their going out of business sales, which started like at the beginning of this quarter. Normally I don't go shopping all that much, unless I really must (i.e. to buy presents or if I need an outfit for some sort of special event and have nothing suitable to wear), but it figures I would have the urge to spend money when I'm trying not to. While trying to analyze why I always feel a need to spend when I hear about big sales I came to the conclusion that my unnecessary desire to spend was and is an addiction.
I am addicted to consuming and admitting that is hopefully my first step for a successful recovery. "Uncontrollable consumerism has become a watchword of our culture despite regular and compelling calls for its end. The United States has more malls than high schools; Americans spend more time shopping than reading" (
2001 Newsweek
).
With Mother's day coming up I'm still trying to fight the urge of just going out to buy my mom, my grandmothers, and my boyfriend's mom a present, but finding something that I can get for them where I don't have to spend money is turning out to be a tad difficult. However, while thinking about the holiday, I've been trying to consider some of my hobbies and talents that could help me out with this dilemma. After reading learning about the Hmong culture through textile art in Ava McCall's article, I considered how I was going to express my voice and feelings towards these important women in my life.
Similar to how young Hmong girls learned how to sew from older women in there families at an early age, my mom taught me to sew when I was about 10 years old and when I was about 16 years old I started cross stitching as a hobby. Because of both of these hobbies that I took up at a young age I still have a lot of extra materials from past projects. So I have decided to use my patients for sewing and cross stitching and reuse past materials to help me not spend any more money and create homemade presents for Mother's Day.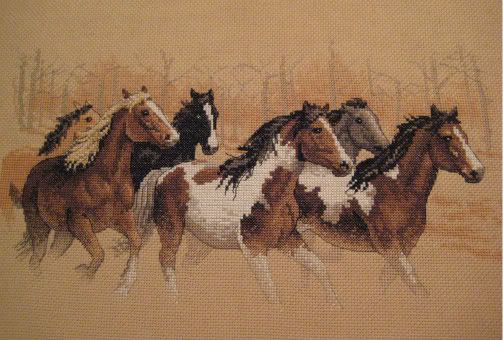 I'm planning on sewing a small blanket made of old shirts that my older brother and I wore when we were kids for my mom. For my grandmothers I'm making a small bar pillow for their backs, and I've just finished a cross stitching of a horse picture for my boyfriend's mom (shown above). Hopefully they all like their homemade presents, I know my wallet sure does!
-Keri Yee
(Blog #1)
--------------
McCall, Ava L. "Speaking through Cloth: Teaching Hmong History and Culture through Textile Art." The Social Studies (1999): 230-36.